The 19th Annual Cashmere Collection Celestial Awakening: A Celebration of Strength, Hope and Compassion fashion show took place in Toronto this past September. This annual fund-and-awareness raiser supports breast cancer and features original couture crafted in luxuriously soft and strong Cashmere UltraLuxe Bathroom Tissue. Toronto designer, Shaun Mascarhenas – founder of fashion label Demascare – has been voted by Canadians as WINNER of this year's Cashmere Collection Vote Couture for the Cure® contest.
Of the twelve-dress collection, Shaun's celestial-inspired garment received the most votes from Canadians and a donation of $15,000 will be made to the Canadian Cancer Society (CCS) and Quebec Breast Cancer Foundation (QBCF) in his name to support the breast cancer cause.
Demascare's stunning creation features delicate Fortuny pleating to showcase the struggle against breast cancer alongside the hope for healing and finding a cure – serving as a remarkable testament to Toronto's outstanding fashion design talent.
Each year, Canadians are invited to create meaningful impact by voting for their favourite design through Vote Couture for the Cure®, one of Cashmere's longstanding initiatives supporting breast cancer. For each vote cast, Cashmere donates $1 (to a maximum of $15,000) to the Canadian Cancer Society (CCS) and Quebec Breast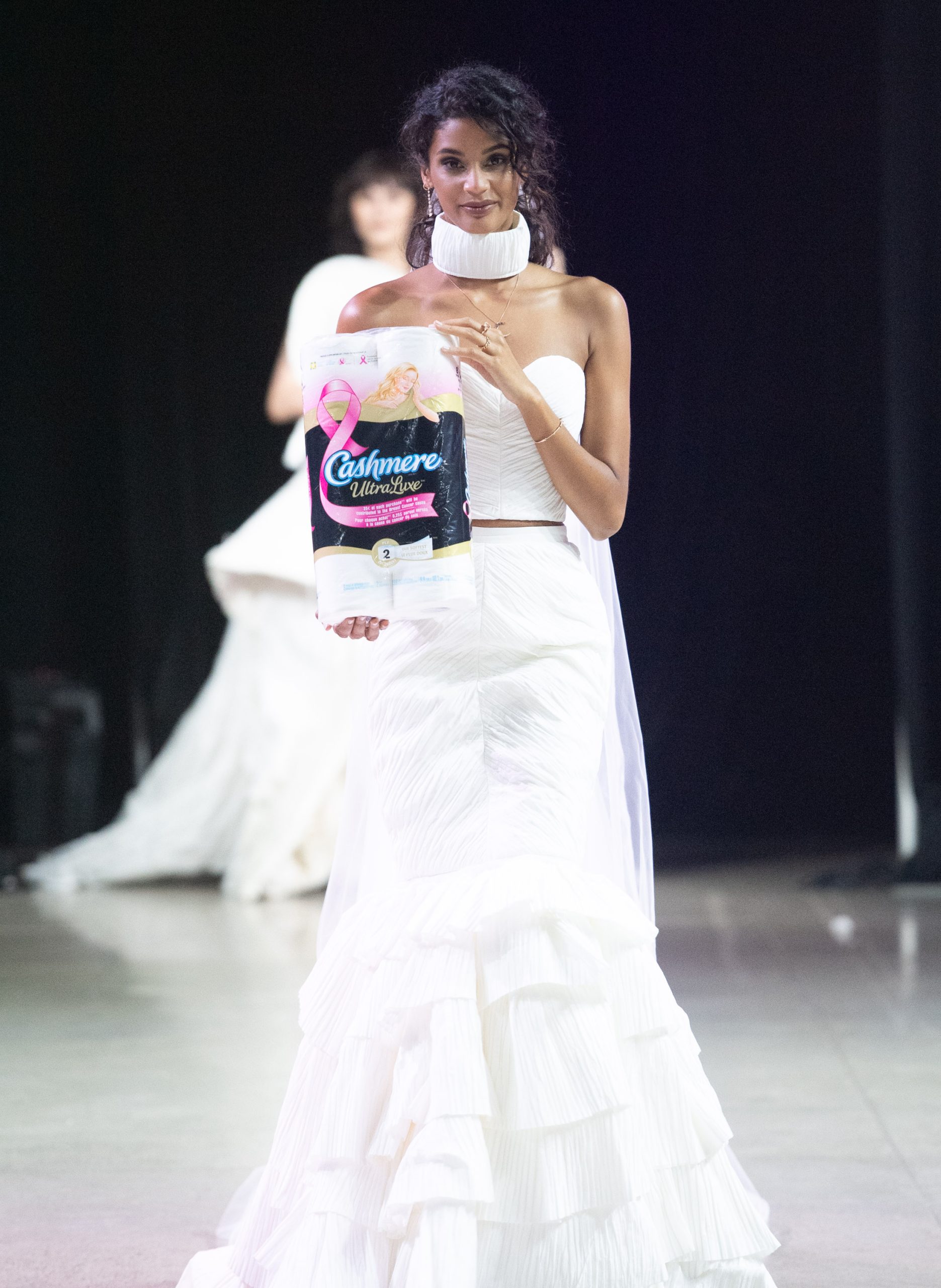 1. How did you decide to accept the invitation to be a designer for the 2022 Cashmere Collection – was it an instant yes? What does it mean to you to be part of a collection with so many amazing Canadian designers?
I had heard about the Cashmere Collection for a long time before 2022 and had always been curious about it. I never thought I would be good enough to participate; not until I started my own label. For Demascare's debut collection, I worked with pleated paper to promote sustainability and that collection received a lot of exposure and media attention. It was at that moment that I knew I would be ready for Cashmere, and as destiny would have it, the Cashmere team reached out at the same time inviiting me to be a part of the 2022 Collection.
I consider it an honour and a privilege to have been a part of the 2022 Cashmere Collection, especially because of all the amazing Canadian designers who have participated and moved on to international success and recognition. The amount of design talent present in Canada is so inspiring and always propels me to push myself even further.
2. Explain the journey of your design and where you got the inspiration from. What was the first thing that came to mind when you won?
For this year's Cashmere Collection, I was extremely excited about the theme "Celestial Awakening: A Celebration of Strength, Hope and Compassion", as well as Cashmere's commitment to the breast cancer cause.
My design was inspired by the celestial bodies that light up the night sky and help us navigate the seas and the modern-day universe – stars.
As a designer, I always try to look beyond the visuals of my design and delve deep into the emotional and symbolic meaning behind it. A future without breast cancer means a lot to me because it has impacted so many women in my life.
I began my design process by chatting with two of my aunts who have survived breast cancer. Our conversation gave me much insight and understanding into the journey that one endures when dealing with breast cancer.
With that in mind, I decided to have my design draped out of pleated bathroom tissue. This pleated texture symbolized the physical scarring and healing of the skin after the procedure of a lumpectomy or mastectomy. It is also meant to reference the mental and psychological scarring that breast cancer inflicts upon an individual. The direction of the pleats on the bust points towards the self (wearer), which is meant to reflect the internal struggle and trauma that a breast cancer patient goes through. As we move to the skirt, the direction of the pleats start radiating towards the outside (universe), signifying a resilient, positive and hopeful mindset that the individual needs in order to fight for their life/survival.
Finally, I chose to complete the look with a soft tulle veil, accented with hand-sewn Swarovski crystals. These crystals are meant to symbolize all the women who have been affected by breast cancer – victims/survivors/newly diagnosed. Just like stars, their light shines bright across the universe, spreading their message of strength, hope, and compassion, no matter how far they are.
The first thoughts that came to my mind when I found out I had won were my two aunts. To know that their journey of survival had helped create the winning look was extremely meaningful. I called them immediately to thank them for trusting me and for sharing something so personal with me.
3. What is next for you after winning Vote Couture for the Cure®? Have you seen any changes or opportunities yet after winning the competition? Tell us about it.
The next objective for Demascare is to focus on the business side of the brand and to build a strong foundation. Working on a stellar website will help put Demascare on the world map.
After winning this prestigious title, I've certainly seen an increase in brand recognition, brand credibility and exposure, and I am so grateful for it.
4. Why should other Canadian designers want to take part in this initiative – the Cashmere Collection?
The Cashmere Collection is a great initiative for other Canadian designers to take part in because of its strong commitment to supporting a future without breast cancer as it is a fund and awareness raiser. For each vote cast during Vote Couture for the Cure, Cashmere donated $1, up to a maximum of $15,000, to the breast cancer cause at the Canadian Cancer Society (CCS) and the Quebec Breast Cancer Foundation (QBCF).  Kruger Products also donated twenty-five cents from the sale of every specially-marked pink package of Cashmere and Purex UltraLuxe Bathroom Tissue (up to a maximum of $65,000) throughout Breast Cancer Awareness Month in October. In addition, their support of the Canadian fashion industry in terms of exposure and recognition makes this an irresistible opportunity.