How to order wine like a pro, or rather, how to get comfortable with talking to your server when it's time to place your drink order.
Sometimes it seems like wine lists are designed to be intimidating.
A huge binder is dropped on the table, and you're expected to flip through pages and pages — written in very small font —to find the quote unquote perfect bottle. It's a lot like looking for a needle in a time-sensitive, hangry – or thirsty – haystack.
Thankfully, the Tre Amici team has shared a life (and dinner) saving list of their tried-and-true tips for tackling an overwhelming wine list.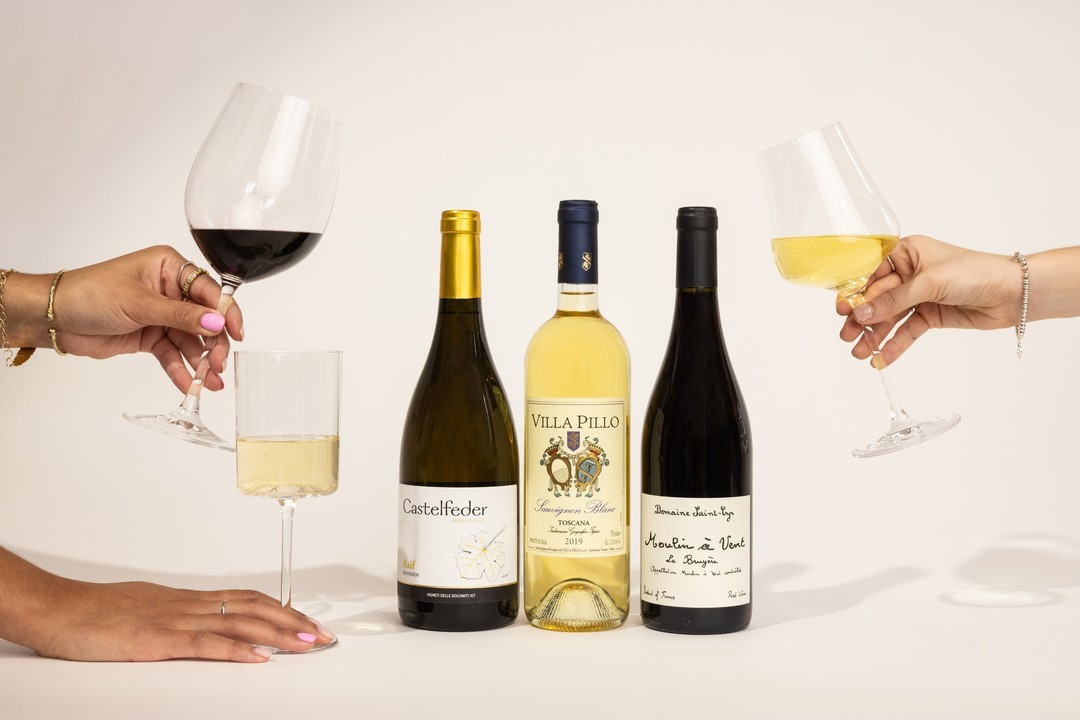 The first thing to know: no one expects you to recognize every bottle on the list. In fact, so long as you know some basic grape and region characteristics, you'll be able to select the perfect bottle for you even if you don't recognize one wine by name.
Get comfortable and familiar with your favourite wine regions and grapes:
Instead of looking for a fancy-sounding name, a high price tag, or a well-known winery, keep your eyes peeled for the grape and the region while making your way down that never-ending list of options. The grape gives you an idea of the wine's characteristics; if it's sweet or dry, red or white, strong or soft.
The region not only tells you where the grapes were grown but gives you some insight into how the wine was made.
Depending on the region, the same kind of grape can taste drastically different. Pinot noir from California, for example, is typically more full-bodied than its French counterpart.
A great strategy is to choose two or three wine regions that interest you and brush up on some of their basic characteristics. This way, you'll have a general idea of what to expect no matter what you're in the mood for. While you can't go wrong with any of the Big 3 (Spain, France, and Italy), we love to recommend you explore somewhere new, like South American wines!
Ignore the price tag!
One of the most important pieces of information to keep in mind when selecting a wine has to do with its price — it doesn't matter. That's right, I said it. Expensive doesn't always mean better, especially when it comes to ordering wine at dinner.
A wine's price typically increases according to its maturity and collectability. If you're looking for a more luxurious experience, go for it! Enjoying a perfectly aged wine is an experience like no other, but not always what we're looking for.
A good rule of thumb: Match the intensity of the dish with the intensity of the wine.
If you're concerned with choosing the perfect bottle for dinner, a good rule of thumb is to match the intensity of the dish to the intensity of the wine.
A bolder plate, like red meat or a heavy stew, will pair perfectly with a bold, flavour-forward red. Something lighter, like a fish or green salad, though, will taste better with a crisp white. If you're not sure, you can always ask the sommelier for their personal pairing recommendations.
Ask!
Don't know where to start or how to choose? Ask the server for their recommendation or if their sommelier can assist you in finding the perfect pairing – this is what they love to do!
How can you help? Let them know what you like, or just as importantly – what you don't like. Where to start? A good strategy for picking wine is to pick your meal. Take a look at the dinner menu and get a sense of what you and the table would like to order. Make note if any dishes stand out as a must-try. With this information, you'll be able to choose or help a sommelier select a wine that perfectly complements your dinner.
Take a Breath
There's a reason we say "enjoying" a glass of wine and not "sweating over" one. Good wine, like good food and good company, is meant to be enjoyed…not stressed over. The best piece of advice we can give you is simply, "Don't overthink it." Trust your instincts, take the pressure of the evening off your shoulders, and, most importantly, have some fun!
To find out more wine tips and tricks, head to @laurenpower_wine on Instagram or visit treamiciwines.com.